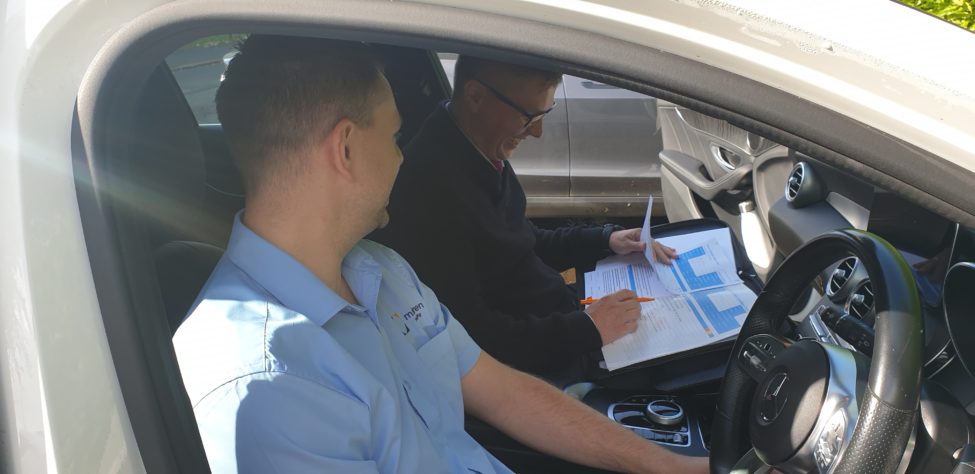 Packaging Specialists drive down carbon footprint with eco-driving
Premium paper-based packaging specialist, McLaren Packaging, is offering eco-driver training to its staff in order to continue to drive down the Port Glasgow-based company's carbon footprint. The role of the driver in carbon emissions is often overlooked but can make a big difference, cutting vehicle emissions not only when driving on company business but also during the daily commute, and achieving savings equivalent to a fuel reduction of 15p per litre.
Sales and Marketing Director, Michael McLaren said, "Someone commuting 20,000 miles annually can save up to £260 per year if they drive more efficiently. Through bike-to-work and car share schemes, our employees have already managed to cut the carbon emissions from their commute by 18% despite a 30% increase in staff
numbers. This eco-driver training will help us all to achieve even greater savings, both financially and environmentally."
McLaren employs 350 people across seven sites in Central Scotland. The first eco-driving sessions will be offered to staff at its Port Glasgow headquarters with further training rolled out across other sites in the coming months. The Scottish, family-owned packaging company launched eco-driver training today (25.09.23) as part of a special event to mark the UN Sustainable Development Goals 'flag campaign'. Over the last 5 years, the company has worked hard to make its operations more sustainable. Amongst the many achievements, it has installed 593kW of solar panels (enough to power 280 homes), cut energy consumption by 29% in 2022 and launched a range of fully recyclable packaging options.
Emma McLarnon, a designer at McLaren, is one of the employees who will be taking the eco-driving course. "Cycling and public transport are not an option for me so I have to drive to work, which is becoming really expensive, particularly because of the price of fuel. If I can learn to drive more efficiently, save money and benefit the environment in the process I can't see a downside. I may just be making a small difference in the overall scheme of things, but it feels like an important one. If more people did the same, jointly I feel like we could make a big impact."
Michael McLaren added, "The sustainability of product packaging is becoming increasingly important to our customers, and we are proud to be a Scottish company that is leading the way in this regard. Our sustainability strategy is specifically aligned to the UN's Sustainable Development Goals, particularly Goals 12 and 13 around climate action, responsible consumption and production, which is why now, on the anniversary of the agreement of these Goals, it feels like the right time to celebrate our progress so far. Our mission is to achieve Net Zero in our Scope 1 and 2 carbon emissions by 2025, and our eco-driver training is just one of many energy-saving measures we've introduced to achieve that goal."
The eco-driver training took place today (25 September) at McLaren's HQ in Port Glasgow as part of a range of events to mark the UN Sustainable Development Goals Flag Campaign. McLaren has signed up to the UN Race to Net Zero to achieve a 50% reduction in emissions by 2030 and net zero by 2050.